---
Directors
Aoyama Primary School Director
Ingrid
Greetings! I am Ms. Ingrid, an educator for almost six years in the field of Early Childhood. I was born and raised in Gingoog City in the Philippines. I hold a degree of Bachelor in Elementary Education major in Special Education from the National Teachers College. Becoming a primary education teacher has been my dream since I was a young girl. After gaining some years of practise at schools in the Philippines, I moved to Okinawa for three years and worked as a preschool teacher. I joined MIS to continue my passion for education.
I believe that the most rewarding aspects of teaching are to have a combination of creativity, intellectual challenge, and fun, paired with the opportunity to create constructive changes every day. My role as a teacher is to help students view the world in a forward-looking attitude and find the potential they need to lead a successful life. Following children's interests, supporting their ideas, fostering positive guidance, and letting them have the freedom to discover truths in their own ways are my main philosophical goals as an educator.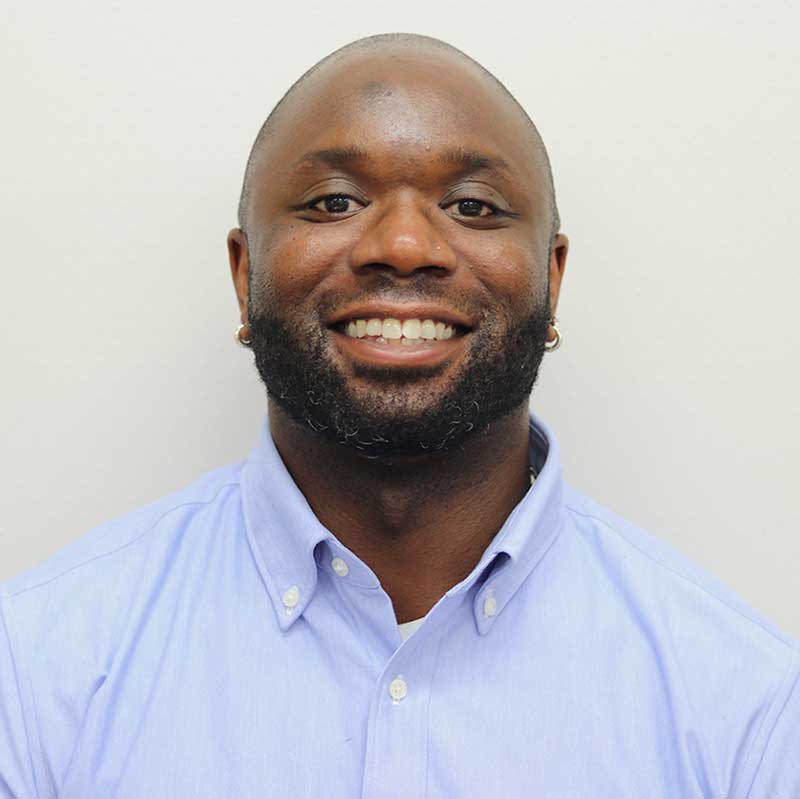 Shukugawa Primary School Director
Richard
Hello everyone! I'm Mr. Vidal. I was born and bred in Birmingham, UK. I graduated with a BSc (Hons) in Psychology. I also hold a Master's level International Postgraduate Certificate in Education. I have been teaching now for close to a decade. I have experience teaching in London, Taiwan, China and Japan. During this time I have taught a wide range of learners. I taught students of all ages in Arida, Wakayama for one year. Following that experience I moved to Osaka to teach kindergarten, elementary school and high school students for five years. Teaching for me is more than just a career. We provide a safe environment for our students to express themselves and learn about the world around them. When I was a child, I was the one who always asked 'why'. As a teacher I always aim to provide a fulfilling answer to students who ask me who, what, where, when or why something happens. I'm very passionate about learning and enjoy sharing my enthusiasm with my students. Teaching young learners is not only about the subjects. We are raising the future generation, so it is our responsibility to ensure we pass on good manners and a thoughtful, respectful attitude.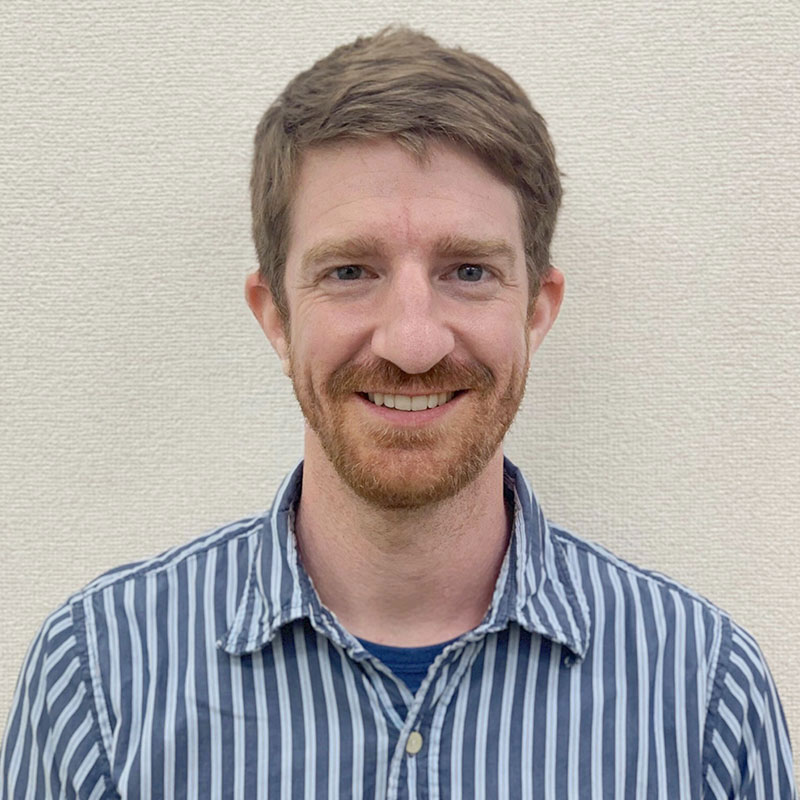 Preschool/Kindergarten Director
Chris
Hello everyone. I'm Mr. Harper. I was born and raised in Kansas City in the United States and have about ten years of teaching experience. I have a Bachelor degree in Health Science and Sport Fitness from the Texas State University in San Marcos. I have taught all ages from toddlers to adults. I spent 2 years teaching in Korea before moving to Japan to teach. For myself, teaching is more than just fun. I look at every child as a competent learner and consider teaching as a new and exciting way of discovering the world. It's exciting and truly rewarding when you see a student understand what is being taught. It is one of the greatest aspects of being a teacher. I like to motivate all students by making the classroom an exciting and fun environment that is both stimulating, engaging and a place to keep students both challenged and interested.
---
Aoyama School
Primary School Teacher
Jasmin
Hello everyone! I'm Ms. Jasmin. I was born in the Philippines. I hold an Associate Degree in Comprehensive english course and have been teaching English for three years. Teaching English has been my passion. I love to see smiles on my students' faces when they learn new things. Aside from simply teaching, I aim to instill good manners, and help them develop their talents and skills during these very important years of their lives. With this in mind, I am excited to create a fun, motivating atmosphere in which students can develop themselves for the future.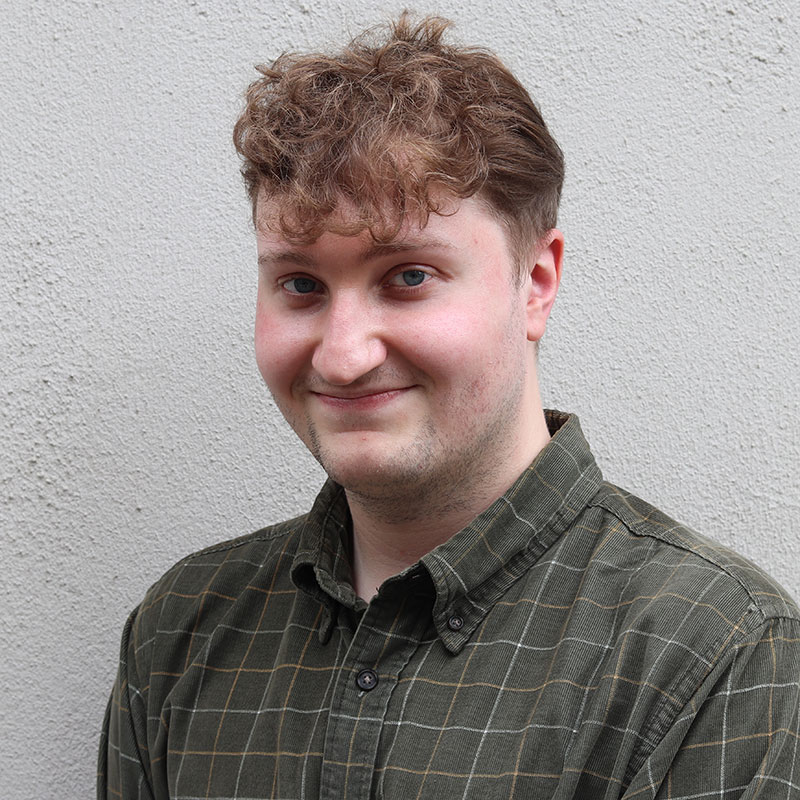 Primary School Teacher
George
Hello! My name is George and I am from England, U.K. I graduated with a degree in film from Exeter University. I have been teaching in Japan for around 4 years now. I started my career in education as an English teacher in Kobe, where I taught at elementary, junior high and senior high schools. This proved to be an invaluable experience for me as I gained not only an insight into all aspects of the Japanese education system, but I also learned about Japanese culture pragmatically. During this time I harnessed a real love and passion for education and encouraging young learners to achieve their best. Going forward my teaching philosophy is to build upon this further to broaden the minds of my students, enhance their international understanding and of course, assist in helping them achieve their dreams. I am so excited and privileged to call myself a teacher at Marie International School and to be able to impact the lives, even in a small way, of these brilliant students!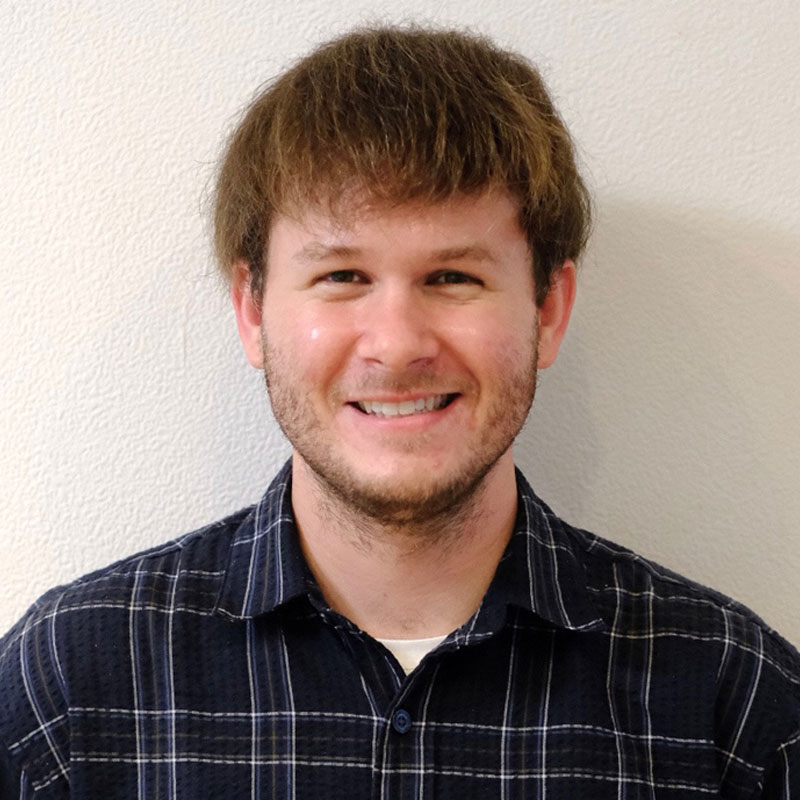 Primary School Teacher
Garret
Hello! I'm Garret and I'm from Tampa, Florida in the United States. I graduated from the University of South Florida with a Bachelor's degree in Secondary English Education in 2018. During my time at university, I volunteered with students with special needs at the elementary school and junior high school level. I also worked as a substitute teacher at a K-8 charter school. After graduating, I moved to Japan to be an English teacher in Kobe for three years. I'm very passionate about teaching, and I hope I can use what I've learned so far in my career to give MIS students the best education possible.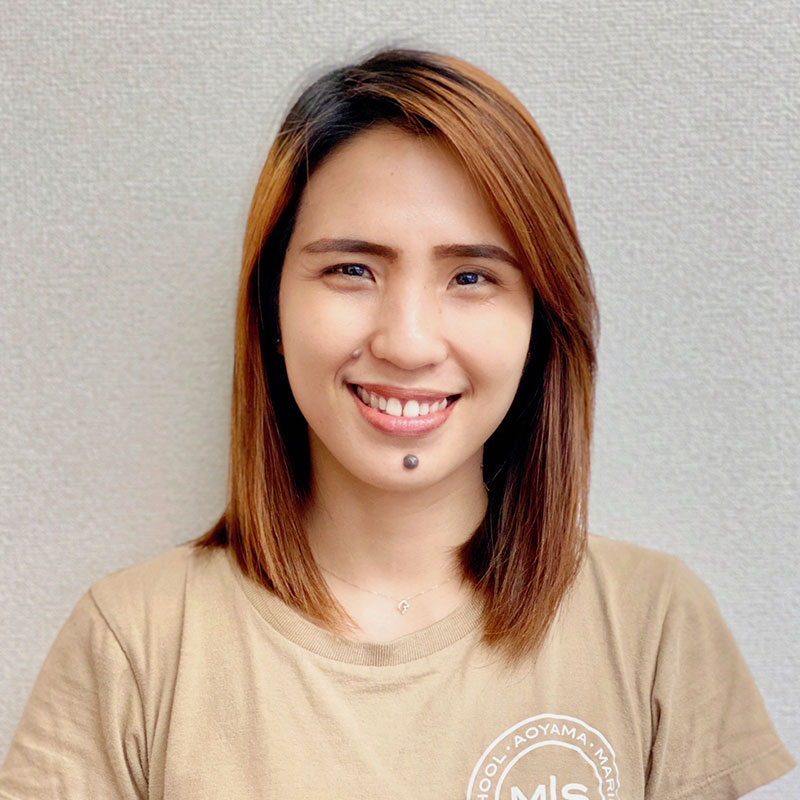 Kindergarten (Big Kiddies) Teacher
Janechin
Hi, I'm Teacher Jane! I was born and raised in Davao City in the Philippines. I hold a Bachelor of Science in Nursing degree from San Pedro College. I am a registered nurse that also has IELTS certification. I have been teaching English in different age groups for 6 years and have been an Early Childhood Educator for two years now. I aim to foster young minds to be independent, to create a positive and well-balanced self-image, to instill learning habits and to adapt to new surroundings with a fun and nurturing atmosphere conducive to learning. I am a passionate reader. I believe that reading can widen the mind's horizons and fully transform the view of the world. My goal is to use my experience and knowledge that reading has gifted me to expand children's minds towards becoming tolerant, independent and competent learners. I am inspired by Plato's teaching philosophy in which the teacher's role is brought to leading, not directing. I am committed to providing funny and exciting activities as a way to encourage young minds to discover their educational potential.
Kindergarten (Little Tikes) Teacher
Meg
Hello! I am Teacher Meg. I was born in Cavite in the Philippines then moved to Japan in my early twenties. As a certified TESOL teacher, I have decided to promote the importance of exposing children to English as a second language and committed myself to apply the holistic teaching approach to support children's social, emotional, cognitive and physical development. This is my seventh year teaching. I believe that teachers can make a difference and influence the lives of their students. As an educational mentor, I aim to encourage creating a positive attitude and finding meaning in life. Children should be appreciated for all improvements and initiatives. By teaching forgiveness, understanding, and healthy communication, I aim to influence children to resolve problems and issues, so they learn and let go of past hurts and open themselves to trust one another. Gentleness is the key.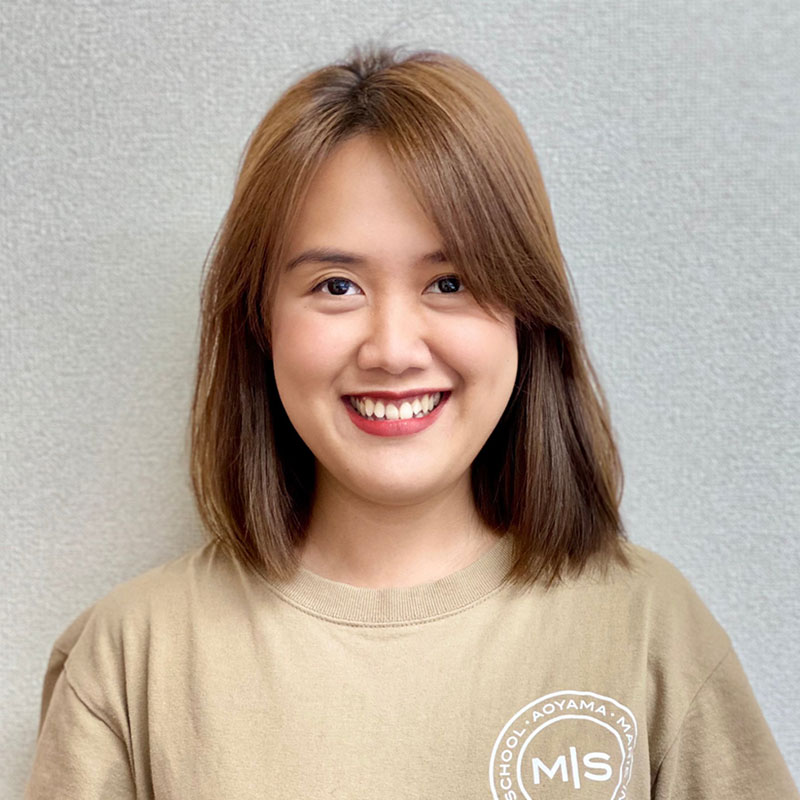 Admin Head
Dianne
Hi there! I'm Teacher Dianne! I was born in the Philippines and raised in Japan. I have a Bachelor degree in Science in Tourism from the University of Santo Tomas and have attended Professional Teacher Training Program; TAIP 2017~2019 Workshop; IB Online Workshop Leading early years in PYP schools Primary Years Programme; Reggio Emilia Approach seminar; Emergency Child Care First-aid and CPR. I have been an Early Education Teacher for six years. I love to provide guidance and mentorship to students to stimulate their proactive attitude towards life. I like to share my wisdom with a gentle passion and inspire students to search for true happiness beyond laughter. I believe that the most important thing to do is to love and care and be more kind to the people in your life. That is why while maintaining a fun and nurturing environment, I treat the students like my own and love them the way that you parents want for your child.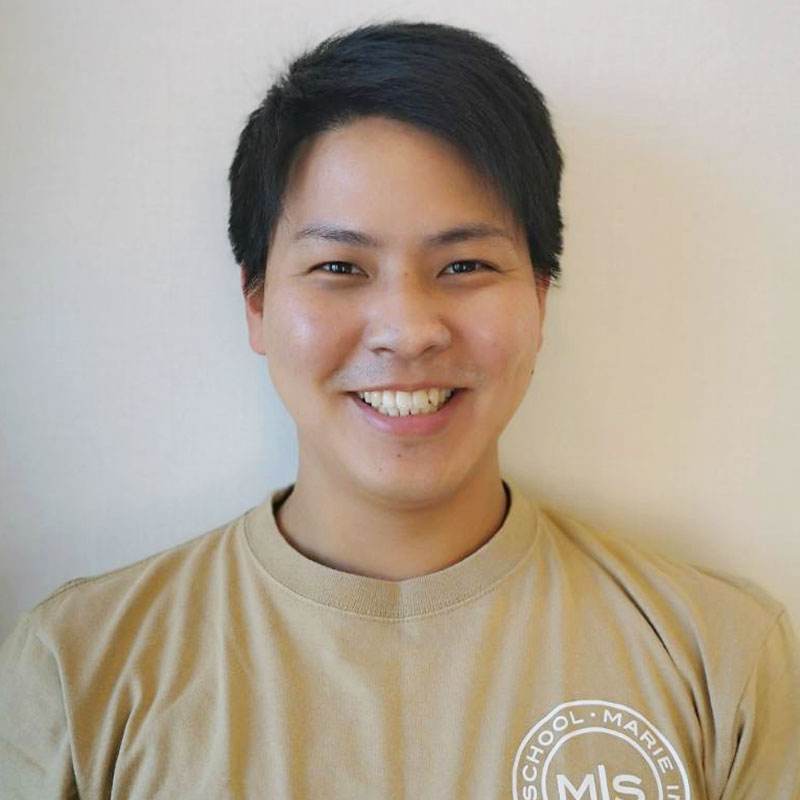 Japanese Teacher
Yu
私は神奈川県横浜市で生まれ育ちました。趣味は畑で野菜を作ることと料理です。特技は誰とでも分け隔てなく話すことです。人と話すことは簡単なようで実はとっても複雑な行為です。相手を喜ばせることもできるが、言葉を誤ってしまうと相手を気付つけてしまう可能性があります。だからこそ、言葉を上手に使えるようになることは生きていくうえで重要であると私は考えます。そこで、日本語のクラスでは、相手の気持ちを考え、自分の意思をはっきり伝えることができるようになることを目標とします。そのほかにも漢字や文章の作成、日本の文化などを幅広く取り入れた授業を展開していきたいと思います。よろしくお願いいたします。
Art Teacher
Naoki
I believe art is a divine force for critical, creative action for life. Our class expects students to question without expecting an answer. Questioning in itself is the answer to it all. We will be experimenting with a variety of subjects within art making, from drawing to sculpture, creative writing to performance. Assignments in class will introduce basic knowledge of each field of art that is uniquely selected for the personality of the class. Most importantly, I expect the class to provide a safe environment for students to confidently question and share their interests regardless of the form of art in which each student creates. My professional research is on the ontology of Art, An intertwinement of Art and Everyday. I want to provide Art learning experience in motion with our current social, political and cultural background. I want students to take a closer look to the public, surroundings and find freedom within confinements. Creativity is not only to be completely free, but to work within rules at times.
---
SUKUGAWA SCHOOL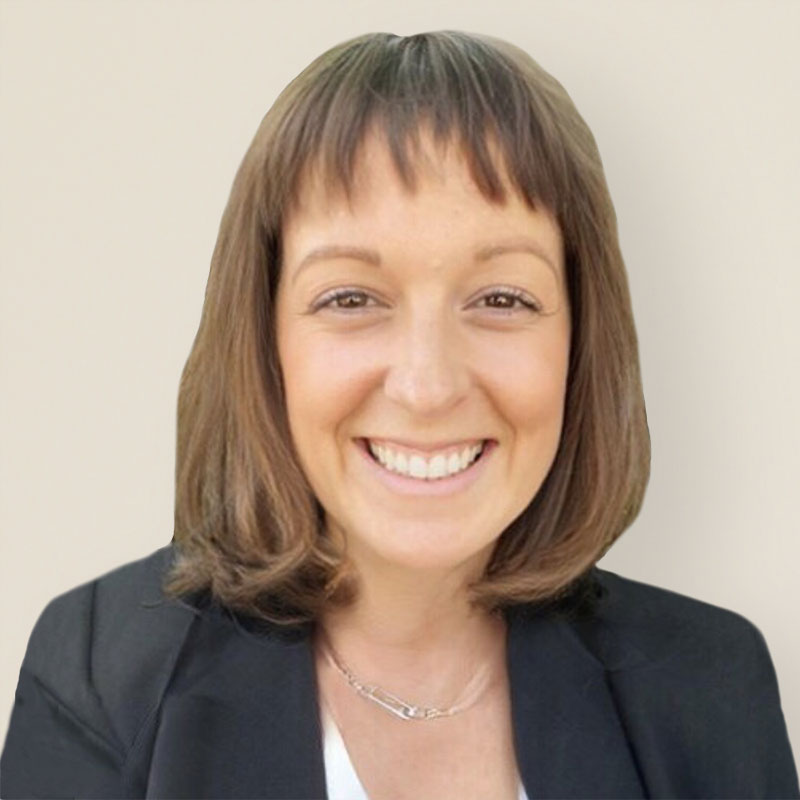 Primary School Teacher
Meghan
Hello, I'm pleased to meet you. My name is Meghan Carroll. I am originally from Nova Scotia, on the east coast of Canada. I came to Japan 15 years ago to teach English, and have fallen in love with living here. Over the past 15 years of my teaching career, I have had many wonderful opportunities to work with all kinds of students and educational institutions. I am passionate about education, and consider myself a lifelong learner. I'm especially enthusiastic about teaching children. Their bright spirit cheers me up, and their curiosity inspires me to grow and and become the best teacher I can be. I am strongly committed to providing my students with the right educational as well as social tools, so that they can grow into their dreams and achieve their potential. I consider it a privilege to be a part of your child's education and am so excited to be on this journey together!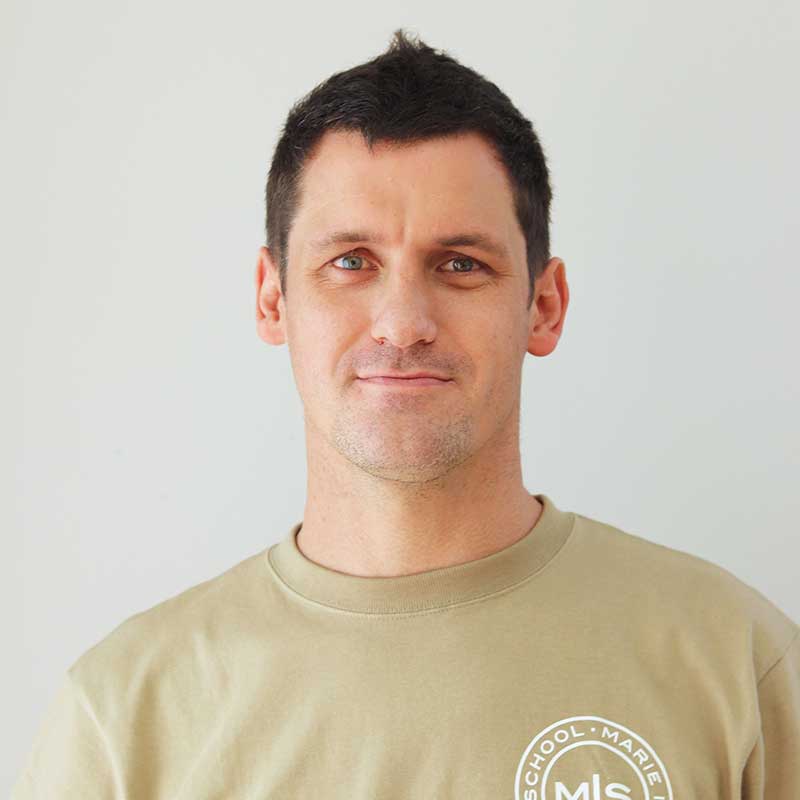 Kindergarten Teacher
Aaron
G'day mates! How's it goin? I am Teacher Aaron. I was born in Esperance, Australia, I moved to Japan in my mid twenties. I have worked in many fields growing up and I use that knowledge in teaching. I have completed courses in Information Technology as well as teaching English as a second language. I have been teaching in Japan for more than a decade, I like to encourage independent thinking and creativity in my students. I want them to enjoy learning English while they are still young and able to gain the ability to use both their native language as well as English.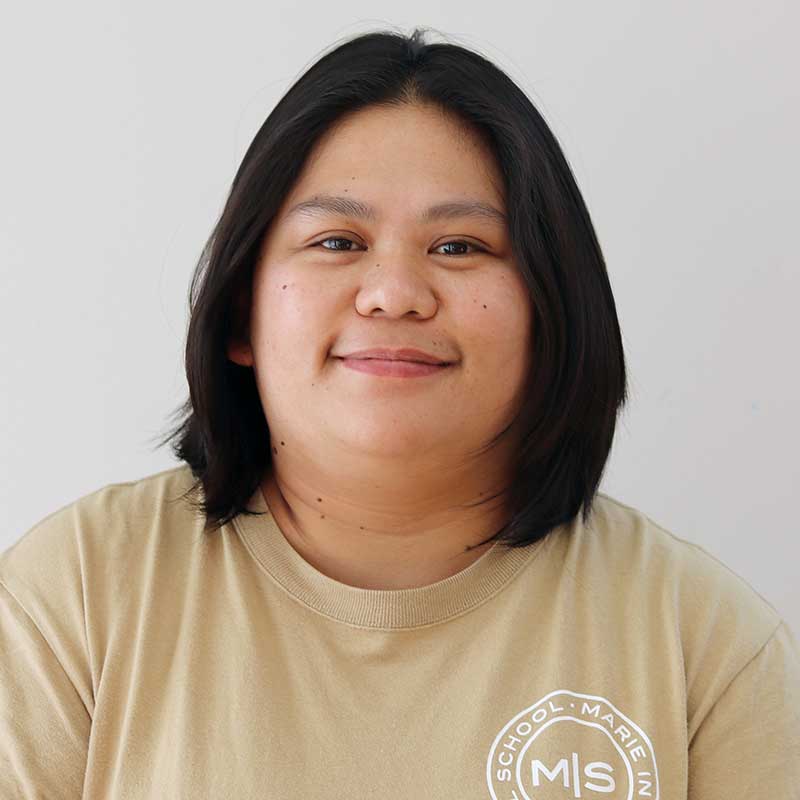 Kindergarten Teacher
Rechie
Good day everyone! I am Teacher Rechie and I am from the Philippines. I have a degree in Psychology and worked for 5 years as an HR- Human Resources professional. I have been teaching English for two years to different age groups here in Japan. As an educator, I aim to create an ideal, positive and comfortable environment for learning, safety, understanding and fun. I like to make my lessons where every student will be inspired to learn and encouraged to share their individual interests.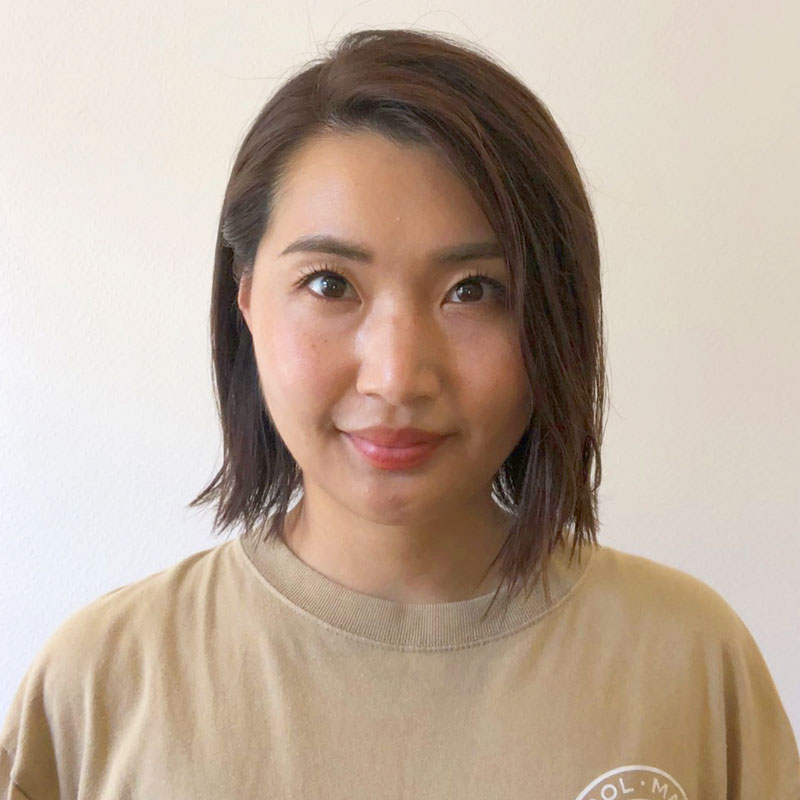 Kindergarten Teacher
Sara
こんにちは。私は野崎さらと申します。 私は甲南大学で、英語英米文学科を卒業しました。 英語を学ぶこと、子供と過ごすことがとても好きです。 私は、子供達が何かを学ぶ時に最も大切なことは、 楽しんで取り組むことだと考えています。 毎日を楽しみながら、 英語や、また英語以外の沢山のことを共に学んでいけたらと思います。 子供たちの、かけがえのない子供時代が素晴らしいものになるように、 楽しく、安心して過ごせるような環境づくりに取り組みたいです。 また保護者の皆様もサポートできたらと思います。 何かご相談などあれば、お気軽にお声掛けください。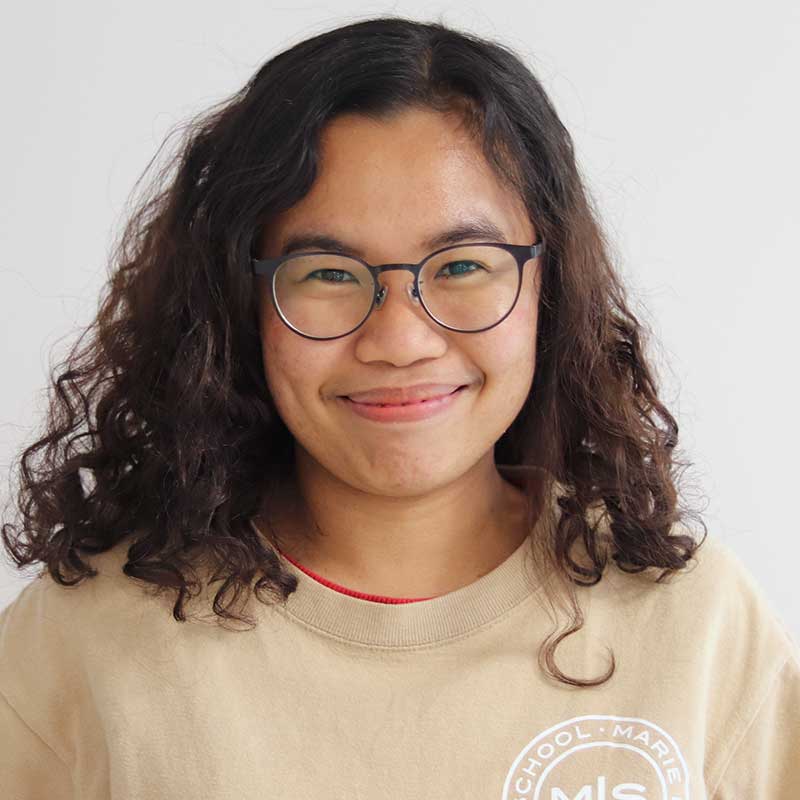 Preschool Teacher
Janeen
Hi everyone! I am Ms Janeen, a licensed teacher, born in Bicol Region, Philippines. I hold a degree of Bachelor of Elementary Education from Bicol University, Legazpi City and Post Diploma of Early Childhood Education at the Ateneo de Naga University in Naga City, Camarines Sur. For two years, I have been a school teacher in our hometown. Searching for a greener pasture, I was fortunate to teach in an International School for pre school age children in Singapore and for four years now, I continue to teach preschool children in Japan.

Photography, is one of my big passion. I love capturing nature, life and the genuine smiles of the people around me.

I am enthusiastic and dedicated in providing the best learning experience for my students. I do believe that every student is unique and watching them grow is a special experience. Being able to provide them with a strong foundation to pursue on their studies and continue to achieve their life goals means a lot to me.

Teaching is a lifelong love of learning and to be a good and efficient teacher, we must have the quality of being patient, having constant communication and love for young children.
Preschool Teacher
Saya Ota
Hello all, I am Teacher Saya. I was born and raised in Okayama prefecture. I graduated with a Bachelor Degree in Early Childhood Education from the Otani University in Osaka. It has been my dream since I was a child to become a nursery teacher, and I am very happy to be involved with children every day. I believe that play provides children with the opportunity to gain social skills by interacting, collaborating and negotiating with others. By learning about the natural environment, they gain knowledge and appreciation for the world and find joy in seeing new things. I would like to grow together with the children. I do believe that every moment, and every new experience that I am exposed to, will have an impact on the rest of life.
Preschool Teacher
Akane
私はOide Akaneと言います。私は大学を卒業して幼稚園の先生と保育士をしていました。今は女の子2人のママで、子どもと遊ぶことが大好きです。日々の保育では、子どもたち一人ひとりの個性を大切にし、一緒に笑ったり喜んだり、気持ちを共有しながら、笑顔のあふれる毎日を送りたいと思っています。保育園のことや子育てのことなど、何か気になることがありましたら、ぜひ遠慮なくお声がけください。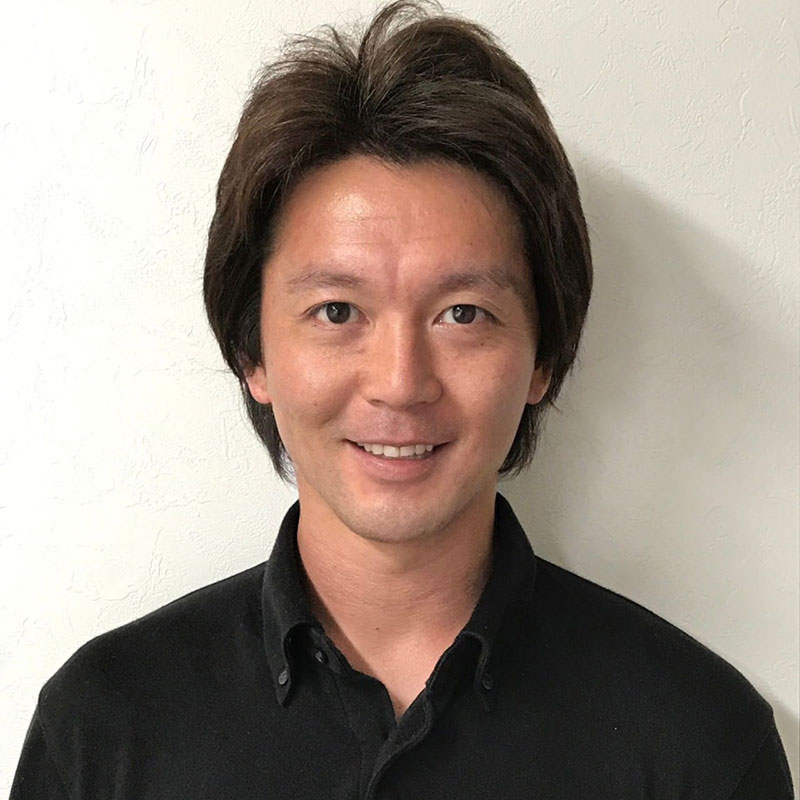 Gymnastics/P.E. Teacher
Coach Yu
Hello. I am Coach Yu. I was born and raised in Ibaraki Prefecture. I hold a Bachelor in Physical Education from Tokai University. After finishing my athlete's adventure in 2010, I became a gymnastic coach successfully bringing young athletes from various gymnastic schools. I believe that the learning process should be fun and is committed to building students confidence and self-esteem through discipline in sport. Most gym routines are boring while repeating the same uninspiring exercises day in and day out. I deliver inspiring and exciting training, where every session feels like play. Life's too short not to find out the potential of the body!
Admin/Japanese Teacher
Akiko
みなさん、こんにちは。MIS夙川で日本語の先生とadminをしています、Akikoです。私は、大学時代に教員の免許を取得し、その後、作文の添削など様々な形で教育に携わってきました。言葉とは、自分の想いや考えを伝えることのできる素晴らしいコミュニケーションの道具だと思っています。子供たちの興味・想像力を大切にしながら、一緒に学んでいきたいと思います。
Admin
Inna
MIS夙川でAdminの仕事をしているイナです。
MISのチームの一員であることを楽しんでいます。毎朝、学校に戻り、生徒や先生たちの笑顔を見るのがとても楽しみで、そのうちに同僚から大切な友人になりました。学校に入った瞬間から、愛と笑いに満ちた温かい雰囲気が伝わってきます。 これらは、幸せな人間を育てるために最も重要な要素であると確信しています。私たちは、生徒たちに知識を与えるだけでなく、自分自身を自由に表現する可能性を与えています。私たち自身が模範となることで、彼らの小さな心を育むことができるのです。感謝すること、愛すること、楽しむことがいかに大切かを教えています。私たちは皆、子どもたちが成長した暁には成功することを望んでいますが、それよりももっと大切なことがあることを忘れています。幼い頃から幸せや充足感に触れることで、成功に対する真の感謝が自然に身につきます。 この貴重な贈り物を手にした子どもたちは、どこに行こうが、何になろうが、自分の可能性を最大限に生かした人生を経験することができるのです。 このような思いから、私は先生方と保護者の方とのコミュニケーション作りのお手伝いをさせていただいています。私たちの学校が日々直面している組織的なプロセスを円滑かつ効率的に維持するために。 何かご希望やご心配なことがありましたら、いつでもご相談ください。
成長するMIS夙川ファミリーへようこそ。