What makes us unique?
Our custom-tailored curriculum, formed from nearly 15 years of educational experience within the MIS family, helps build on your child's strengths while improving on their weaknesses. Using the resources of the MIS family, we are well-prepared to localize and accommodate our curriculum to suit the needs of each learning center that adapts our approach.

We recognize the important role that local culture plays in the educational process, and we actively take this into account. Our curriculum is intentionally neutral in terms of cultural elements as this allows schools around the world to incorporate their own local customs and traditions into our approach.

Our educational philosophy supports inquiry-based, students-centered learning. We want to empower our students, first by providing a safe, friendly learning environment and then by building their self-advocacy and sense of being independent, active learners.
All English School
As a truly international school, your child's entire school life will be conducted in English. This applies to all activities within and outside of the curriculum. From their lessons and activities to their crafts and playtime, our instructors will be speaking and giving instructions only in English.

From the greetings when your child arrives at the school to the farewell when your child leaves the school – your child will be immersed in an English-only environment.
Providing Structured Activities
We offer a variety of techniques to help your child move toward independence, problem solving and understanding abstract concepts. We believe that a student's environment should offer age-related activities and the opportunity to interact and explore on their own. We create environments where children are free to engage with other students of all ages to build a strong base in social and academics skills.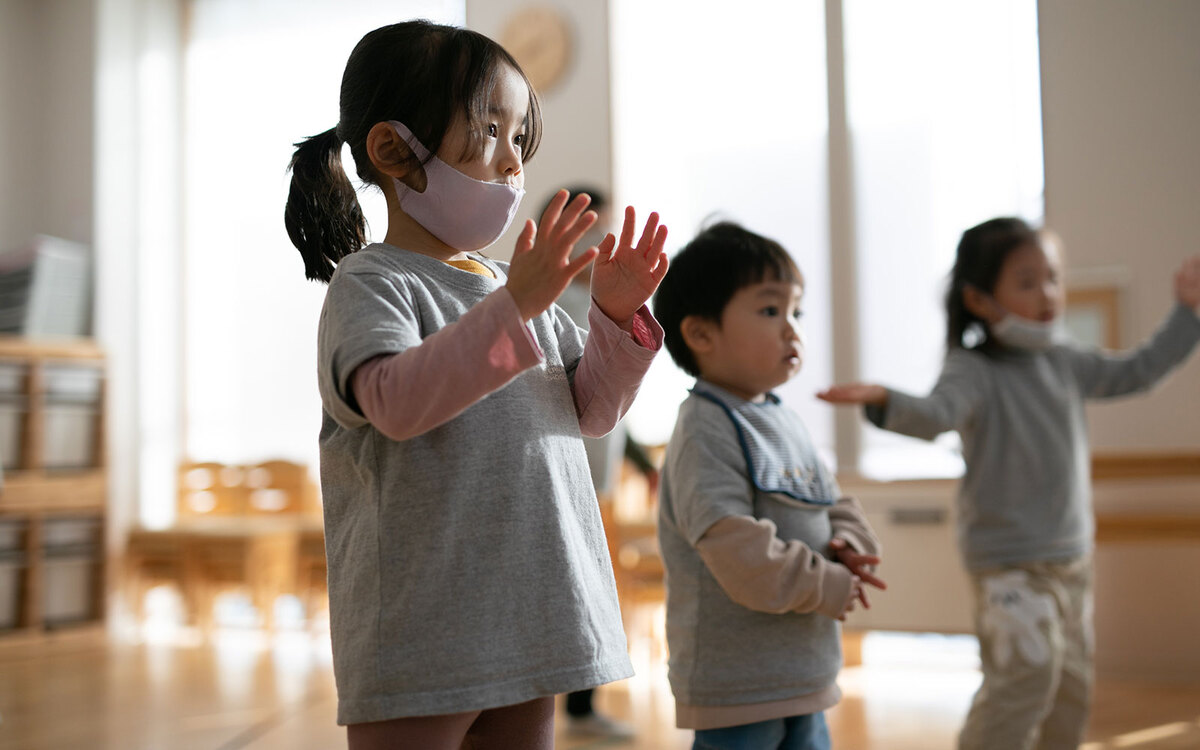 Flexibility of Tuition System
We have a flexible tuition system that parents can choose from. We offer a 2 and 3 days a week system, whereby parents can decide on which days of the week they want their child to go to school. Lastly, we have a full-time system, which is divided into two options: the 9:00 am to 3:00 pm full time, and the 9:00 am to 6:00 pm full time.
Classes
We understand that each age of education has different levels of cognitive and physical development and how important it is to have specific classes that cater to these milestones. In our Preschool/Kindergarten we currently offer 3 different classes that are age specific from 9:00-15:00, as well as an Extended Care program that continues until 18:00.

Our Tiny Tots class provides care for children who are 1-2 years old. At this age students are aware of themselves and how others perceive them. They make steady gains in all areas of development. They are struggling with their feelings of independence versus dependence. They want to do everything by themselves, yet they also realize that they need love and attention to accomplish these goals. Many exciting developmental achievements occur in our toddler classrooms.

Our Little Tikes class is offered for students aged from 3-4 years old. At this age of development, nothing is impossible! Your child is learning at a rapid rate, and as they grow and advance, the teacher adapts the curriculum to meet your child's needs and interests. They are forming new words and creating new ideas every day. They need the opportunity to thrive in an environment that is based on their unique development and learning styles. We endeavor to provide such an environment.

Our Big Kiddies class is for students who are 5-6 years old. We arrange a school-like setting, enhanced with a balance of activities geared to encourage and promote your children to be the best they can be. By creating an atmosphere that encourages thinking, reasoning, problem-solving and decision-making, your child will be provided with a solid foundation for a lifetime of continued learning while preparing your child for their next big step in their education.
If you would like to enroll in Marie International School, or if you have any questions,
please contact us through the contact form or by phone.
Contact Form