Management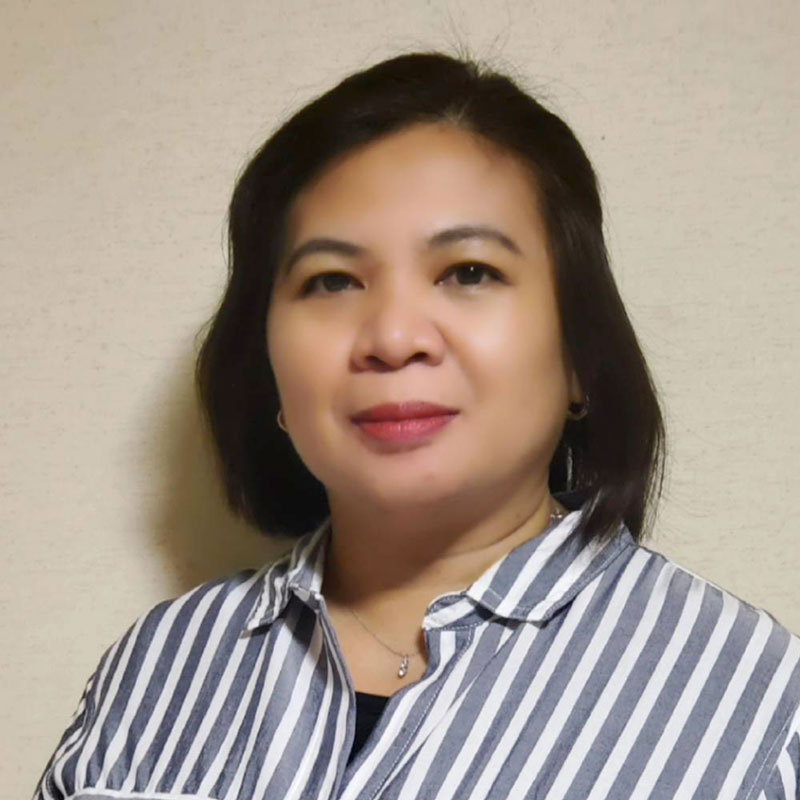 Head of Operations
Ana Marie Wong
Welcome to MIS! I am Teacher Ana and I am the Chief Financial Officer. I have taken the role as the CFO of Marie International School with the vision of creating an excellent educational environment that both challenges children to reach their potential and makes learning fun along the way. I hold an Accounting Degree from the Polytechnic University of the Philippines with a background in business and a passion for early childhood education. I am IB – PYP Head of School certified and have attended the Reggio Emilia Approach seminar. I spent a large part of my life learning and living in an international environment. I was born in the Philippines but spent my early foundational years attending international school abroad, making English my first language, followed by my country's national language, Tagalog. I have been in Japan for 20 years. I am committed to creating a wide range of learning opportunities, where every student will be inspired to learn and encouraged to share their individual interests.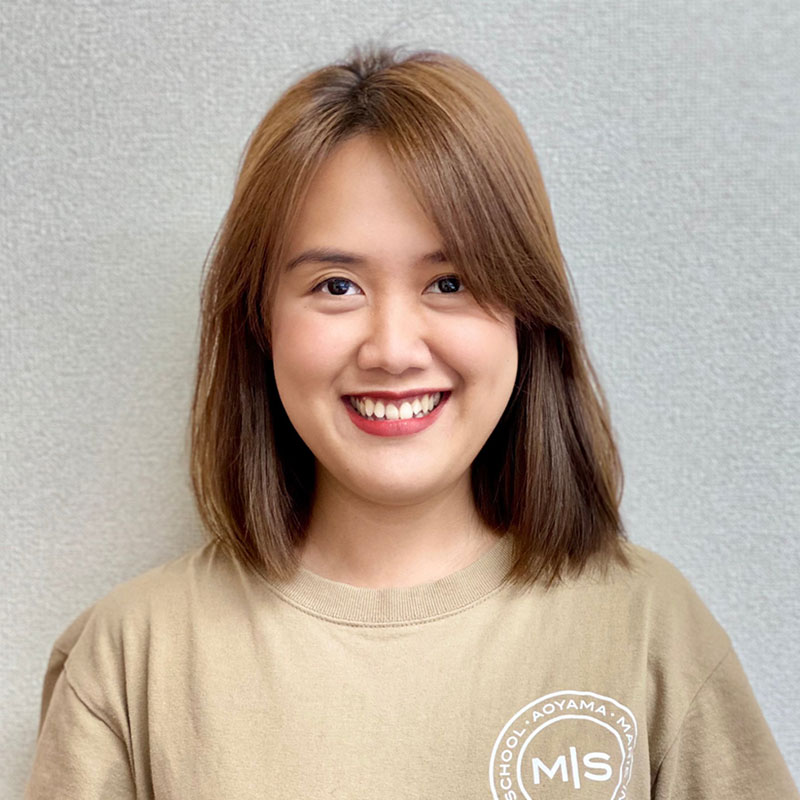 Admin Head
Dianne Mariano
Hi there! I'm Teacher Dianne! I was born in the Philippines and raised in Japan. I have a Bachelor degree in Science in Tourism from the University of Santo Tomas and have attended Professional Teacher Training Program; TAIP 2017~2019 Workshop; IB Online Workshop Leading early years in PYP schools Primary Years Programme; Reggio Emilia Approach seminar; Emergency Child Care First-aid and CPR. I have been an Early Education Teacher for six years. I love to provide guidance and mentorship to students to stimulate their proactive attitude towards life. I like to share my wisdom with a gentle passion and inspire students to search for true happiness beyond laughter. I believe that the most important thing to do is to love and care and be more kind to the people in your life. That is why while maintaining a fun and nurturing environment, I treat the students like my own and love them the way that you parents want for your child.
Kindergarten/Pre-School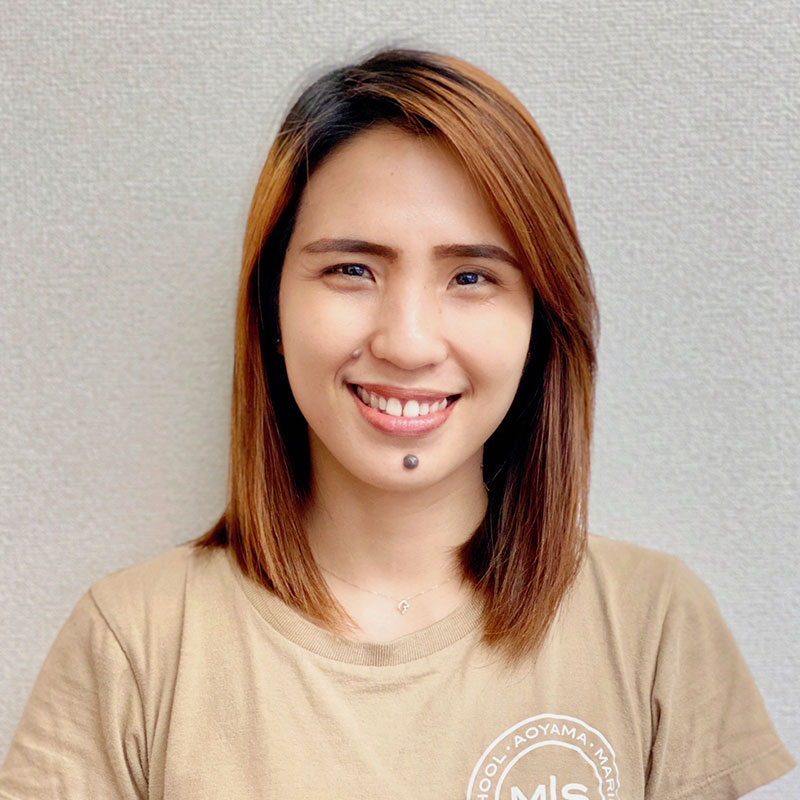 Big Kiddies Teacher (Aoyama School)
Janechin Billote
Hi, I'm Teacher Jane! I was born and raised in Davao City in the Philippines. I hold a Bachelor of Science in Nursing degree from San Pedro College. I am a registered nurse that also has IELTS certification. I have been teaching English in different age groups for 6 years and have been an Early Childhood Educator for two years now. I aim to foster young minds to be independent, to create a positive and well-balanced self-image, to instill learning habits and to adapt to new surroundings with a fun and nurturing atmosphere conducive to learning. I am a passionate reader. I believe that reading can widen the mind's horizons and fully transform the view of the world. My goal is to use my experience and knowledge that reading has gifted me to expand children's minds towards becoming tolerant, independent and competent learners. I am inspired by Plato's teaching philosophy in which the teacher's role is brought to leading, not directing. I am committed to providing funny and exciting activities as a way to encourage young minds to discover their educational potential.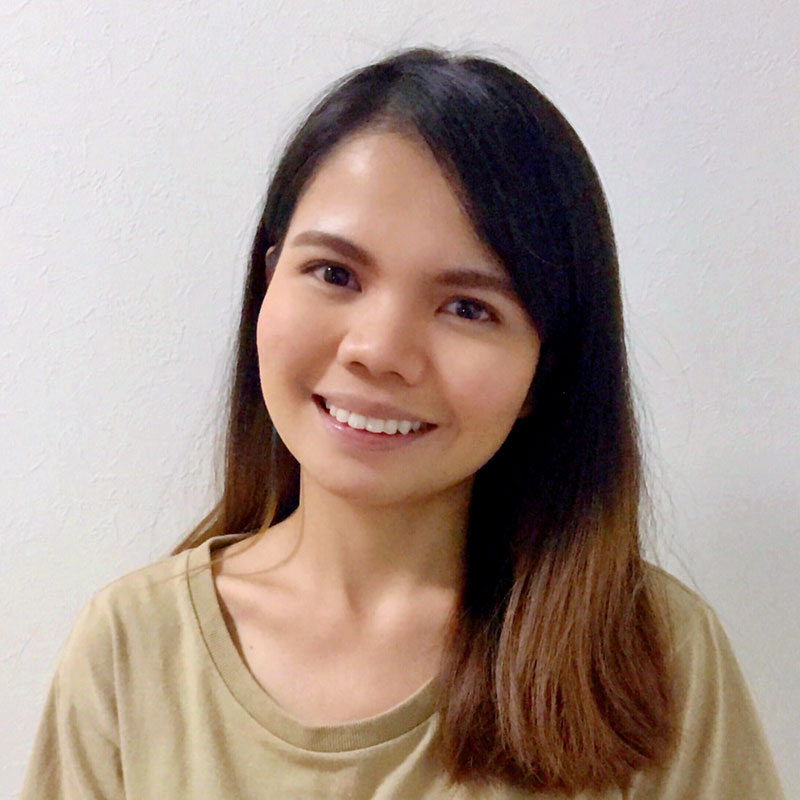 Tiny Tots Teacher (Aoyama School)
Cindy Holasca
Hi, I am Teacher Cindy. I was born and raised in Nueva Ecija province in the Philippines. I graduated with a Bachelor degree in Business and Economics from the prestigious University of the Philippines. After that, I decided to pursue my passion for education and gain experience of living internationally. I got accepted at Meiji University in Japan, and took the Global Japanese Studies Program, focusing on culture, art, business, society and globalization. I graduated with a Bachelor degree in 2020. Teaching kids has been the most fulfilling life's experience for me. In my opinion, by observing, listening, questioning, and reflecting it is possible to identify and support a child's strengths, needs, interest and development. In my free time, I like to dance and play the ukulele. I am passionate about the promotion of multiculturalism across Japan and the Philippines. I think that being absorbed in an activity that connects with other people is a secret of happiness.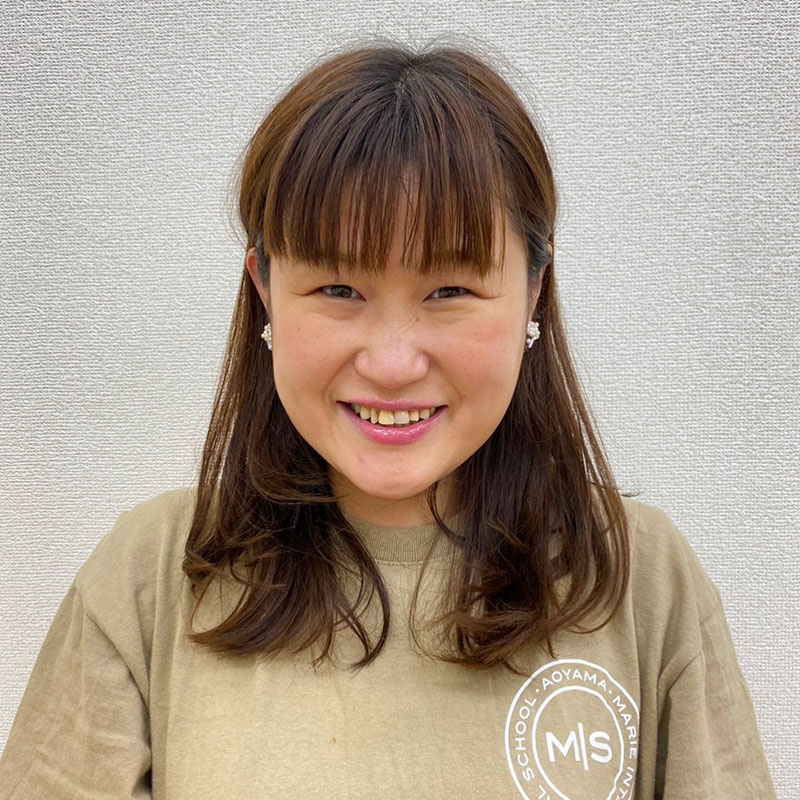 Teacher (Aoyama School)
Mariko Yamada
Hello! I am Teacher Mariko. I have worked in Japanese kindergartens, nursery schools and an international school for about 13 years. I have been to London for half a year and Sydney for about a year to study English and worked part-time at an international school and also at local nursery schools as a volunteer. l love to play with kids. Through playing with children, I am able to know their feelings and help them with their curiosity and independence. Real education begins by inculcating real curiosity and passion towards endless learning pursuits.
Little Tikes Teacher (Aoyama School)
Meg Albes
Hello! I am Teacher Meg. I was born in Cavite in the Philippines then moved to Japan in my early twenties. As a certified TESOL teacher, I have decided to promote the importance of exposing children to English as a second language and committed myself to apply the holistic teaching approach to support children's social, emotional, cognitive and physical development. This is my seventh year teaching. I believe that teachers can make a difference and influence the lives of their students. As an educational mentor, I aim to encourage creating a positive attitude and finding meaning in life. Children should be appreciated for all improvements and initiatives. By teaching forgiveness, understanding, and healthy communication, I aim to influence children to resolve problems and issues, so they learn and let go of past hurts and open themselves to trust one another. Gentleness is the key.
Head Teacher (Shukugawa School)
Shizuka Oyabu
Hi, I am Teacher Shizuka. I was born and raised in Osaka and have been working with children for ten years. I have a Bachelor in Early Childhood Education from Osaka International University. I lived in Toronto, Canada for 8 months where I was an assistant teacher at Westside Montessori School. I believe all children have the ability to learn by themselves when they are born. It is my responsibility to support the children to become independent and self-sufficient individuals. I am very happy to see their faces full of satisfaction when they complete their work. That is what I enjoy most about working with the children. They provide a lot of great and positive energy. I like to make my lessons relaxing and fun! I am also the admin for the preschool and kindergarten. If you have some concerns and questions, I am here to help you.
Teacher (Shukugawa School)
Saya Ota
Hello all, I am Teacher Saya. I was born and raised in Okayama prefecture. I graduated with a Bachelor Degree in Early Childhood Education from the Otani University in Osaka. It has been my dream since I was a child to become a nursery teacher, and I am very happy to be involved with children every day. I believe that play provides children with the opportunity to gain social skills by interacting, collaborating and negotiating with others. By learning about the natural environment, they gain knowledge and appreciation for the world and find joy in seeing new things. I would like to grow together with the children. I do believe that every moment, and every new experience that I am exposed to, will have an impact on the rest of life.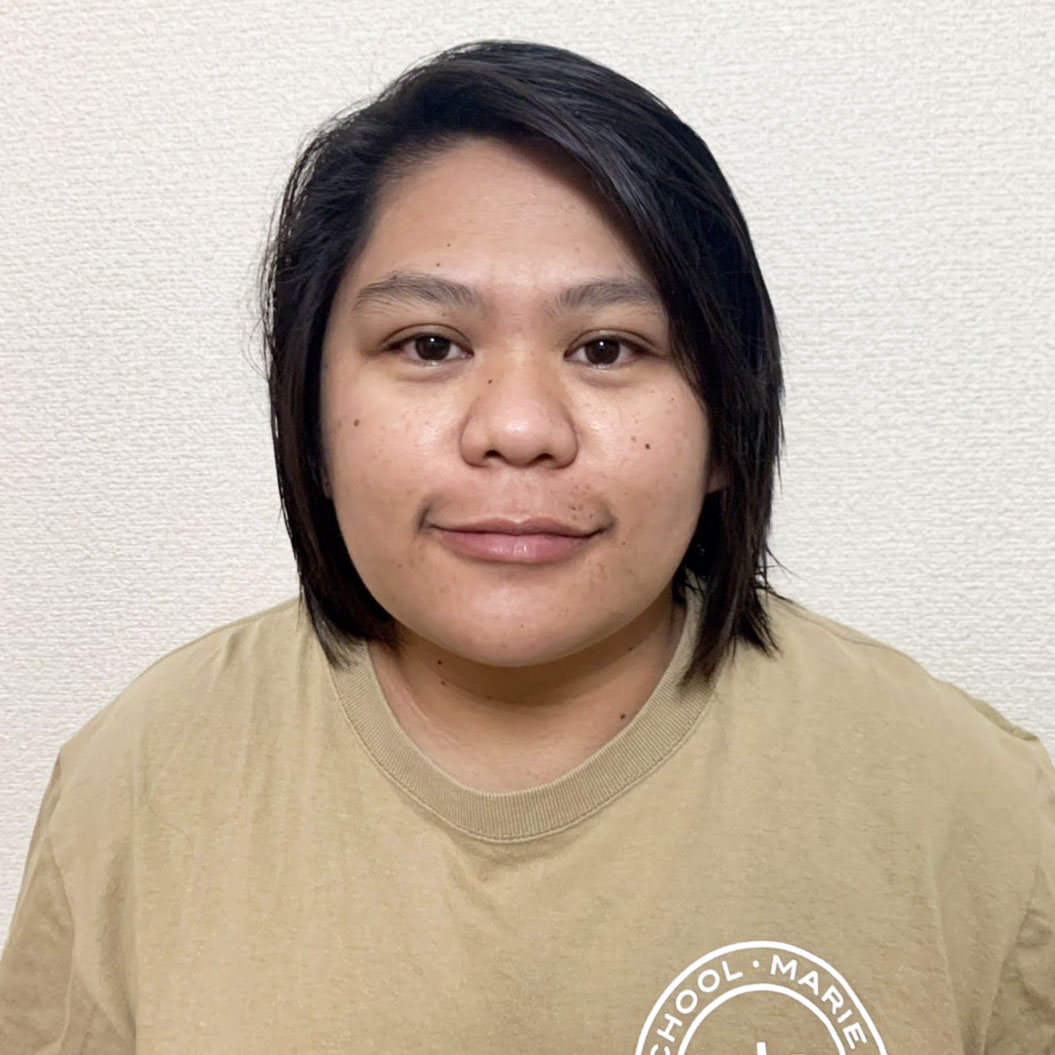 Head Teacher (Shukugawa School)
Rechie Rufo
Good day everyone! I am Teacher Rechie and I am from the Philippines. I have a degree in Psychology and worked for 5 years as an HR- Human Resources professional. I have been teaching English for two years to different age groups here in Japan. As an educator, I aim to create an ideal, positive and comfortable environment for learning, safety, understanding and fun. I like to make my lessons where every student will be inspired to learn and encouraged to share their individual interests.
Teacher (Shukugawa School)
Rovence Atuheire
Hello everybody, I am Teacher Rovence. I was born and raised in Uganda. I graduated from Makerere University in Uganda with a Bachelor Degree in Accounting. I am a warmhearted and dedicated teacher that gets through the day with high energy and gives her heart and soul into the work. I believe that students should be encountered by positive learning experiences and promote "joy of learning" where children by active participation in a safe and happy learning environment are allowed to express naturally their thoughts, feelings, and behaviors. I have taught kindergarten kids for a year back in my country and 6 months here in Japan. My aim is to foster joy and love in children's hearts as well as encouraging self esteem and confidence for their growth. More so through the usage of English as a medium of communication.
Primary School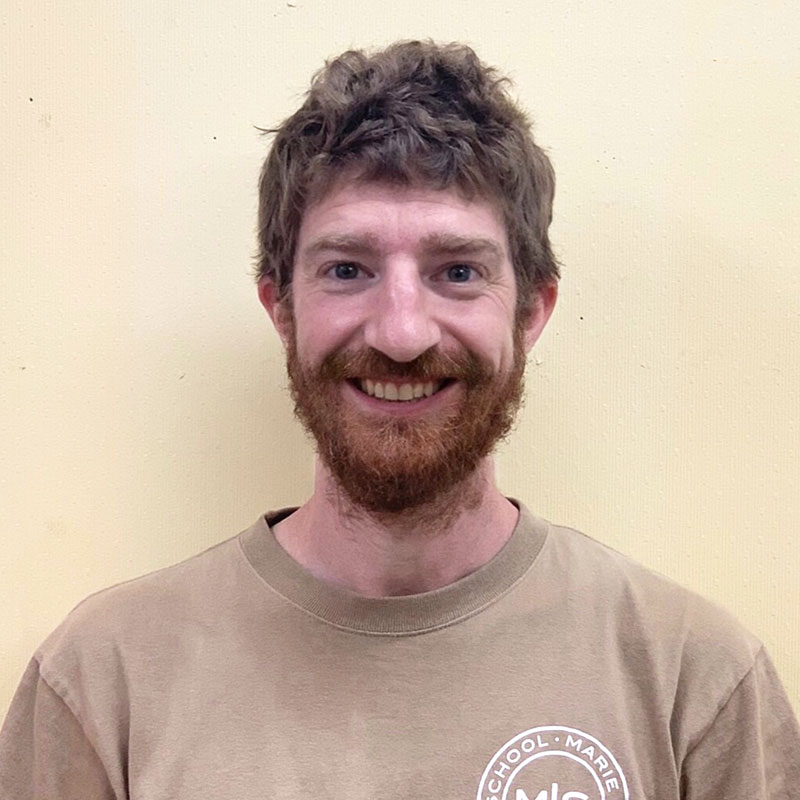 Head Teacher (Shukugawa School)
Christopher Harper
Hello everyone. I'm Mr. Harper. I was born and raised in Kansas City in the United States and have about ten years of teaching experience. I have a Bachelor degree in Health Science and Sport Fitness from the Texas State University in San Marcos. I have taught all ages from toddlers to adults. I spent 2 years teaching in Korea before moving to Japan to teach. For myself, teaching is more than just fun. I look at every child as a competent learner and consider teaching as a new and exciting way of discovering the world. It's exciting and truly rewarding when you see a student understand what is being taught. It is one of the greatest aspects of being a teacher. I like to motivate all students by making the classroom an exciting and fun environment that is both stimulating, engaging and a place to keep students both challenged and interested.
Head Teacher (Aoyama School)
Ingrid Galela
Greetings! I am Ms. Ingrid, an educator for almost six years in the field of Early Childhood. I was born and raised in Gingoog City in the Philippines. I hold a degree of Bachelor in Elementary Education major in Special Education from the National Teachers College. Becoming a primary education teacher has been my dream since I was a young girl. After gaining some years of practise at schools in the Philippines, I decided to move to Okinawa for three years and worked as a preschool teacher. Then she decided to continue her passion for education and joined the Marie International School in Aoyama. I believe that the most rewarding aspects of teaching are to have a combination of creativity, intellectual challenge, and fun, paired with the opportunity to create constructive changes every day. My role as a teacher is to help students view the world in a forward-looking attitude and find the potential they need to lead a successful life. Following children's interests, supporting their ideas, fostering positive guidance, and letting them have the freedom to discover truths in their own ways are my main philosophical goals as an educator.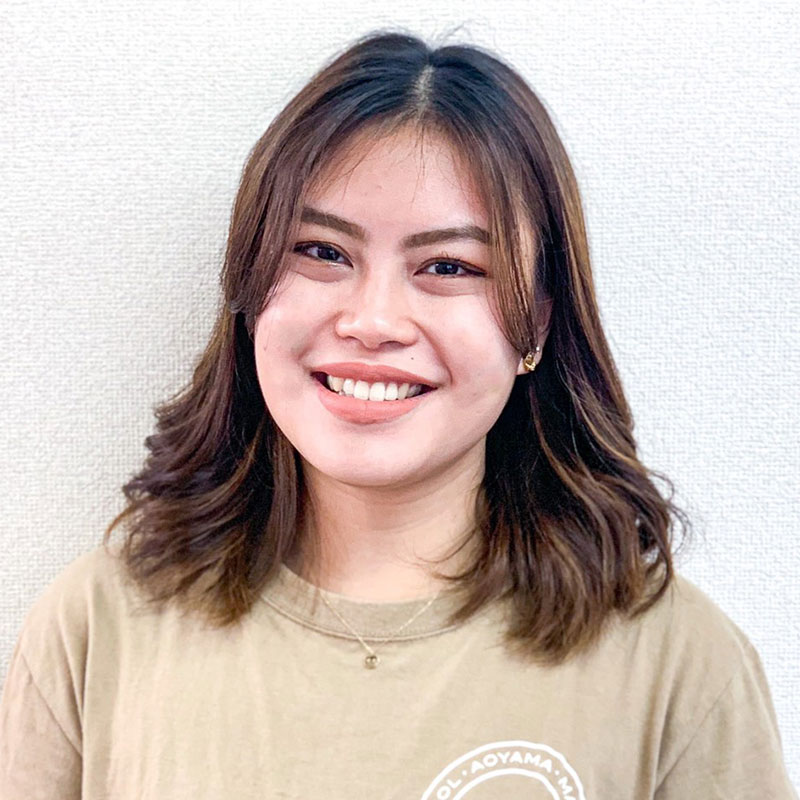 Homeroom Teacher (Aoyama School)
Nyl Jasmin Sonsing
Hello everyone! I'm Ms. Jasmin. I was born in the Philippines. I hold an Associate Degree in Comprehensive english course and have been teaching English for three years. Teaching English has been my passion. I love to see smiles on my students' faces when they learn new things. Aside from simply teaching, I aim to instill good manners, and help them develop their talents and skills during these very important years of their lives. With this in mind, I am excited to create a fun, motivating atmosphere in which students can develop themselves for the future.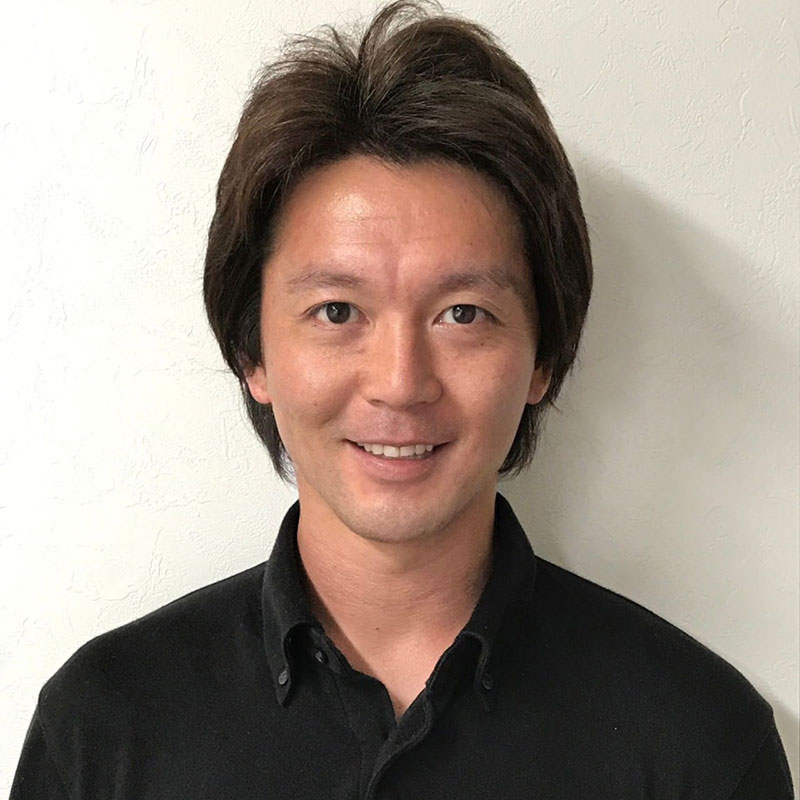 P.E. Teacher (Shukugawa School)
Yuichiro Ishihara
Hello. I am Coach Yu. I was born and raised in Ibaraki Prefecture. I hold a Bachelor in Physical Education from Tokai University. After finishing my athlete's adventure in 2010, I became a gymnastic coach successfully bringing young athletes from various gymnastic schools. I believe that the learning process should be fun and is committed to building students confidence and self-esteem through discipline in sport. Most gym routines are boring while repeating the same uninspiring exercises day in and day out. I deliver inspiring and exciting training, where every session feels like play. Life's too short not to find out the potential of the body!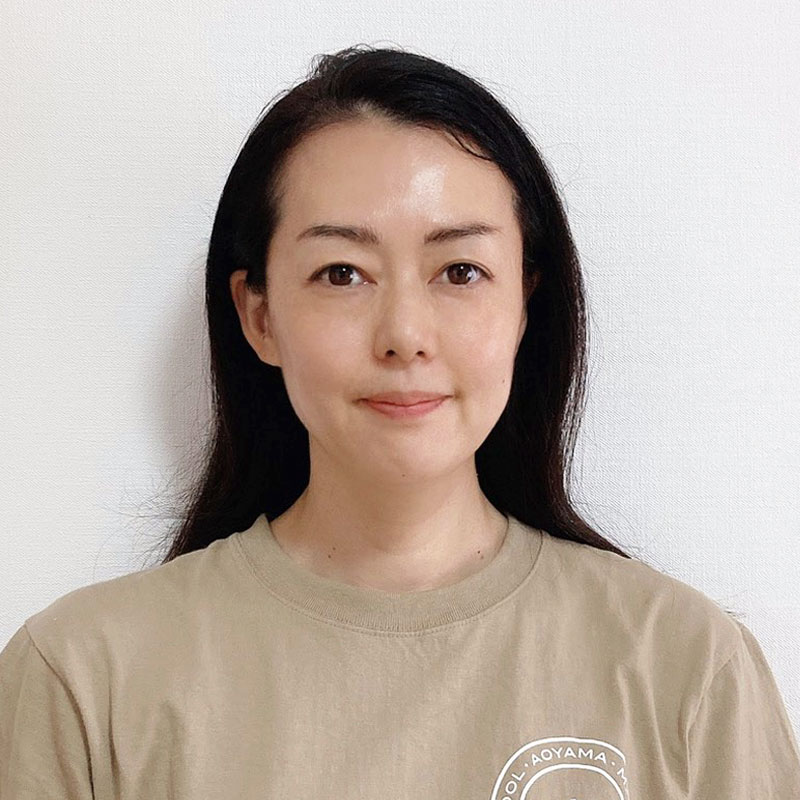 Japanese Teacher/Admin (Shukugawa School)
Mariko Takimoto
Hi, I am Ms. Takimoto. I was born and raised in Nara Prefecture and graduated with a Bachelor degree in the Japanese Language from the Kobe Shoin Women's University. I am also the admin for Primary. If you have any questions or need help feel free to ask me. I lived in Shanghai before deciding to join the Marie International School in 2020. As motivation plays a significant role in the process of learning the language, I am committed to creating a safe and comfortable classroom environment with a friendly atmosphere where all students feel recognized and valued, and that gives them the motivation to learn and participate in activities. I believe that students are motivated by their sense of accomplishment. For that reason, I apply positive feedback as a method to develop students' passion for learning and build their self-confidence, competence and self-esteem.
Art Teacher (Aoyama School)
Naoki Nakatani
I believe art is a divine force for critical, creative action for life. Our class expects students to question without expecting an answer. Questioning in itself is the answer to it all. We will be experimenting with a variety of subjects within art making, from drawing to sculpture, creative writing to performance. Assignments in class will introduce basic knowledge of each field of art that is uniquely selected for the personality of the class. Most importantly, I expect the class to provide a safe environment for students to confidently question and share their interests regardless of the form of art in which each student creates. My professional research is on the ontology of Art, An intertwinement of Art and Everyday. I want to provide Art learning experience in motion with our current social, political and cultural background. I want students to take a closer look to the public, surroundings and find freedom within confinements. Creativity is not only to be completely free, but to work within rules at times.