Spring Program 2023
Date:2023.02.20 
Category: Information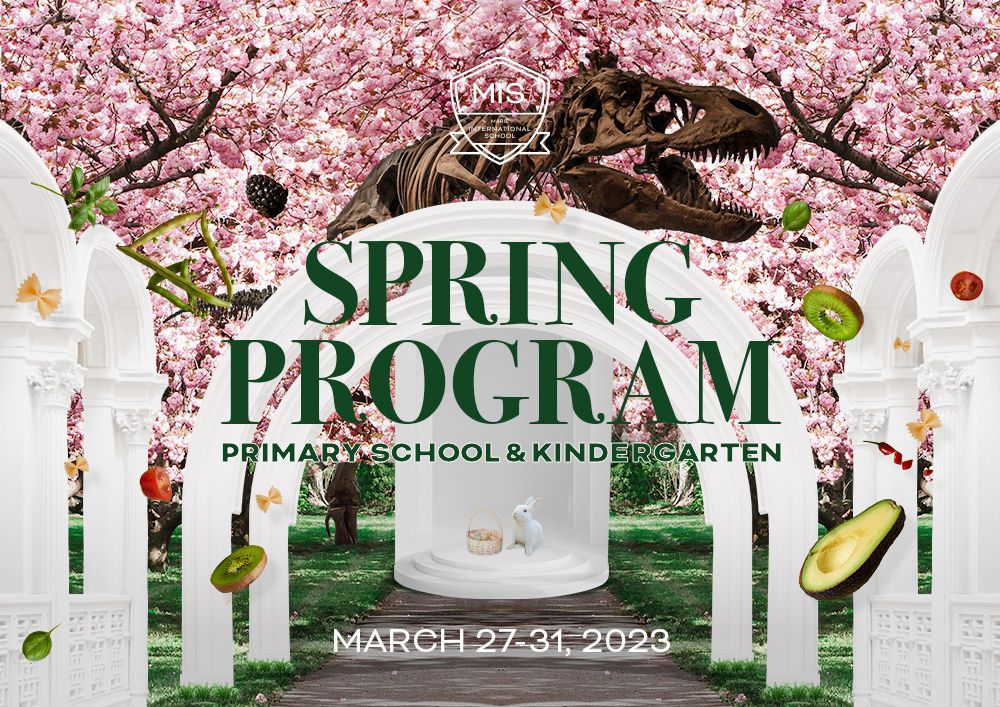 Marie International School Spring Program
March 27 (Mon) – March 31 (Fri)
Join our five fun-filled days in the Spring season!
This year we have prepared a 5-day exciting, innovative and engaging spring program for students to fully enjoy. Our spring-theme based activities tap into what kids love most. Students will be able to enjoy a wide variety of Spring activities, such as growing their own plan in a custom painted pot, cooking a fresh meal of Pasta Primavera, or decorating Easter Eggs and having an Egg hunt at the park.
■WHY JOIN?
With extended care available after 3pm, students can join from 9am to 6pm.
There will be a no-Japanese policy, and English will be used at all times.
Delicious and Healthy home-cooked lunch available to order
All levels of English speakers are welcome
■AGES
Kindergarten: Students aged 3-6
Primary: Students aged 6-10
■LOCATION
Aoyama:
LE REVE BUILDING.
Jingūmae 3−1−14, Shibuya-ku, Tokyo
(Kindergarten) 6th floor
(Primary) 5th floor
Shukugawa:
(Kindergarten) Hinoikecho 3−8 2F Nishinomiya, Hyogo
(Primary) La Pole 302 Minamikoshikiiwa 7-7 Nishimomiya, Hyogo
■TIME & PRICE (Tax included)
Non-MIS Students
9:00~15:00 ¥46,800 /5 days or ¥10,800 /1 day (Incl. lunch)
9:00~18:00 ¥63,000 /5 days or ¥14,400 /1 day (Incl. lunch)
MIS Students(Primary)
9:00~15:00 ¥39,000 /5 days or ¥9,000 /1 day (Incl. lunch)
9:00~18:00 ¥52,500 /5 days or ¥12,000 /1 day (Incl. lunch)
※Non-MIS students need to order lunch separately.
Extension for one day is available from 15:00 to 18:00 for an additional 3,000 yen per day.
If this is your first time, there will be a registration fee of 20,000 yen. (Once you register, you will be able to enroll other seasonal programs and after-school classes without any registration fees.
Registration deadline for full refund is Monday, 3/20.
Even if it is before the deadline, if we are at maximum capacity we will stop acceptance of applications.
If you are applying for more than one person, please fill out the form separately for each child and inform us know by e-mail. (Sibling discount available)
■HOW TO APPLY
You may also fill out an application form at the school.
Please note that we may not be able to accept applications if our maximum capacity is reached.
■THINGS TO BRING
Water bottle (water or tea)
Chopsticks, spoon, fork, etc. (for lunch)
Writing utensils (required only for primary students)
Indoor shoes
Clothes that can get dirty
Change of clothes (required for kindergarteners, primary school students if necessary)
Snack (no peanuts, mochi rice cake, jelly)
■PAYMENT PROCEDURE
Your application will be accepted when you receive an application completion e-mail. Within one week from the date of application, we will send you an invoice and payment details by e-mail. Please make a payment through bank by the due date.
*The bank transfer fee for payment will be charged to the parent/guardian.
■CANCELLATION / CHANGE OF APPLICATION
If you wish to change the date after registration, you may do so only if there is space in a class of the same level or grade.
If you cancel after 3/20 (Mon), please understand that no refund will be made.
In the event of an unavoidable absence, please contact us by 10:00 a.m. on the day before the starting date.
■IN THE EVENT OF A DISASTER OR BAD WEATHER
In the event of heavy snow, typhoon, or heavy rain, we will contact you by email on the morning of the program day.
■ALLERGIES
If your child has any allergies, please consult with us at the time of application.
We are able to remove those foods from our lunch boxes.
However, we will not be responsible for any allergic symptoms that may develop after eating our lunch box.
■SUSPENSION OF PARTICIPATION
If there are dangerous acts such as abuse or violence, or if the safety of other students cannot be ensured, or if significantly hindering the progress of the class, students may be asked to go home even during the program. In that case, please note that the tuition fee on the day cannot be refunded.
■Contact
info.marieinternationalschool@gmail.com
Aoyama: 03-6721-0805
Shukugawa: 0798-72-3363
Please check the PDF below for the program description.
Aoyama Pre&Kinder Spring program2023
Aoyama Primary Spring program2023
Shukugawa Kinder Spring program2023
Shukugawa Primary Spring program 2023