Amazing Summer at MIS!
Date:2021.06.09 
Category: Aoyama Information / Aoyama School / Shukugawa Event / Aoyama Event / Shukugawa Information / Shukugawa School
Summer Program 2021 
Marie International School Aoyama and Shukugawa will be having our Amazing Summer Program. The program will be based on a different theme each week, with a curriculum that incorporates the Montessori and Reggio Emilia approaches.
Summer themes, activities, crafts and more in store
.
Sign up and keep your kids busy this summer! 
Register on or before

June 26
and we will give you a
20% discount

on the

application fee
. Please take this opportunity to register your kids. W
e are very excited to have them join us this summer!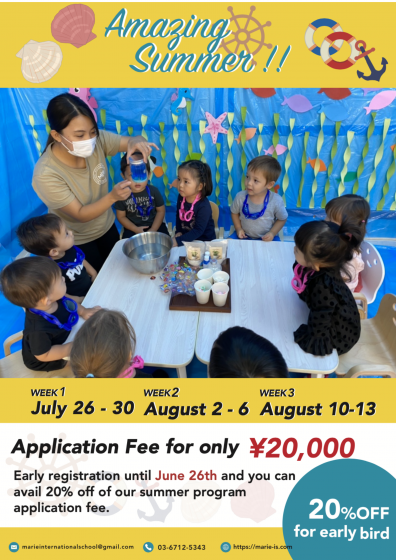 Tuition and Fees
Week 1 7/26~7/30
39,000/5 days 9:00-15:00 (lunch included)
52,500/5 days 9:00-18:00 (lunch included)
9,000/1 day 9:00-15:00 (lunch not included)
3,000 Extended care 15:00-18:00
Week 2 8/2~8/6
39,000/5 days 9:00-15:00 (lunch included)
52,500/5 days 9:00-18:00 (lunch included)
9,000/1 day 9:00-15:00 (lunch not included)
3,000 Extended care 15:00-18:00
Week 3 8/9~8/13 (8/9 Holiday)
31,200/5 days 9:00-15:00 (lunch included)
42,000/5 days 9:00-18:00 (lunch included)
9,000/1 day 9:00-15:00 (lunch not included)
3,000 Extended care 15:00-18:00
For more details, contact:
contact@marie-is.com
Aoyama Tel. no.      :  03-6712-5343
Shukugawa Tel no.  : 0798-72-3363
Application Form:
Special Program Application Form(1)