During the Tiny Tots years, children make steady gains in all areas of development. They are struggling with their feelings of independence versus dependence. They want to do everything by themselves, yet they also realize that they need love and attention to accomplish these goals.
Overview
Tiny Tots are aware of themselves and how others perceive them. Many exciting developmental milestones occur in our toddler classrooms. They are reading picture books, drawing, painting, climbing, jumping, and exploring everything around them. We believe that a toddler's environment should offer age-related appropriate activities and the opportunity to interact and play alone or in small groups. By allowing our children to learn in small groups, it gives them the opportunity to get more one-on-one attention. Our professional trained teachers will give you the peace of mind knowing that your child is in a loving and nurturing atmosphere.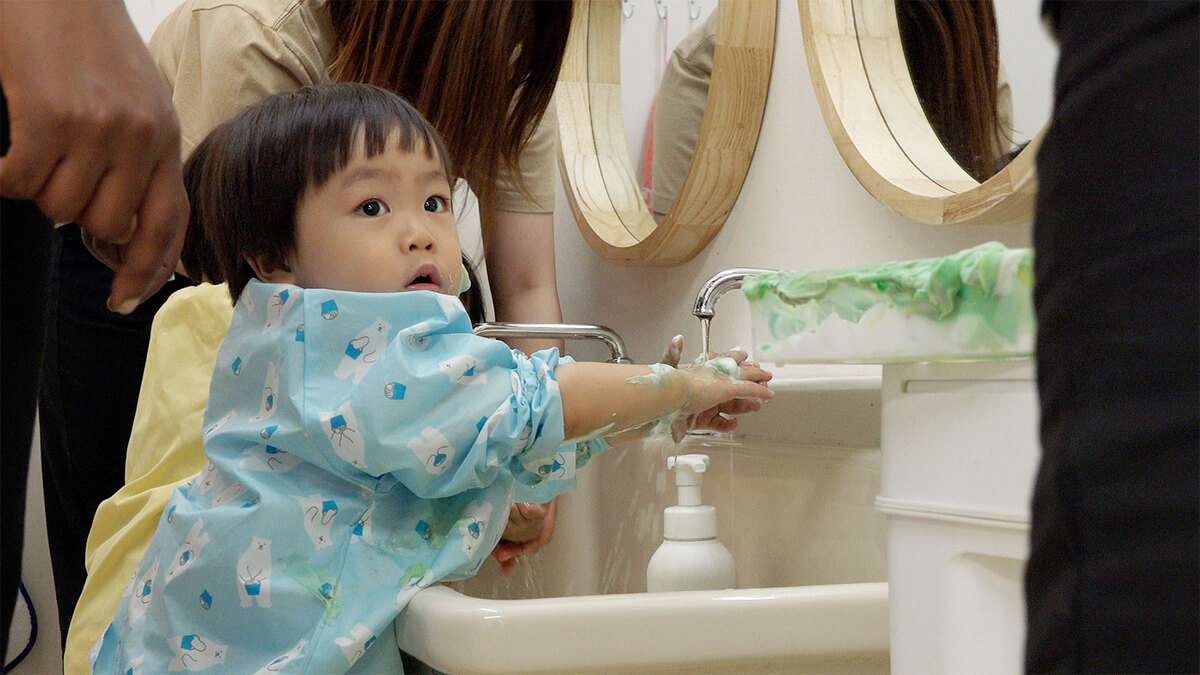 Our programs
Marie International school offers a program to meet the busy life-style of your toddler. We offer a variety of techniques to help your child move toward independence, problem solving, understanding abstract concepts, and sharing with other children. We focus on appropriate developmental outcomes that are based on your child's individual needs. Reading, sorting, counting, and identifying shapes are a primary objective for improving your child's language skills and are all covered in-depth.
Creative Curriculum-based lesson plans
Low student-teacher ratios
Daily reports used to communicate with parents
Phone and tablet in the classroom for parent-teacher communication
Tiny Tots Daily Program (9:00~15:00)
Time table
Content
9:00 - 10:00
Drop off / Free Play
10:00 - 10:10
Hei Time
10:10 - 10:40
Hei Activity
Monday Science
Tuesday Math
Wednesday P.E Class (9:40am - 10:10am), Social Studies
Thursday English
Friday Fine and Gross Motor Skills
10:40 - 10:50
Toilet / Water Break
10:50 - 11:30
Outdoor Activities
11:30 - 12:15
Lunch
12:15 - 12:30
Story Time
12:30 - 2:00
Rest Time
14:00 - 2:15
Free Play
2:15 - 2:30
Snack Time 1
2:30 - 3:00
Music and Movements/ Hei Time
3:00 - 3:05
Hei Hei Going Home

Extended Care (15:00~18:00 After School Program)
| Time table | Content |
| --- | --- |
| 3:00 - 3:30 | Free Play |
| 3:30 - 4:00 | Hei Activity |
| 4:00 - 4:20 | Snack Time 2 |
| 4:20 - 5:00 | Locomotor skills Development |
| 5:00 - 5:30 | Language Development |
| 5:30 - 6:00 | Free Play/ Hei Hei Going Home |
Tuition
Monthly Tuition and Fees
We don't have 3-month Term Tuition and Fees anymore.
If you would like to enroll in Marie International School, or if you have any questions,
please contact us through the contact form or by phone.
Contact Form